All Around This World's special sing-along, dance-along homeschool music class or group class for kids introduces families to the world through experience, engagement and FUN.
** BOOK JAY FOR A FAMILY-FRIENDLY SOLO PERFORMANCE, INTERACTIVE HOMESCHOOL MUSIC CLASS, GROUP MUSIC CLASS OR PARTICIPATORY CULTURAL WORKSHOP DURING HIS TOUR THIS SUMMER, mid-JUNE to AUGUST 2017. This summer Jay will be traveling from the northernmost tip of Maine to the southernmost tip of Florida.  Check out this summer's proposed dates.
See photos and videos from the "Sands Across America" summer tour, 2016.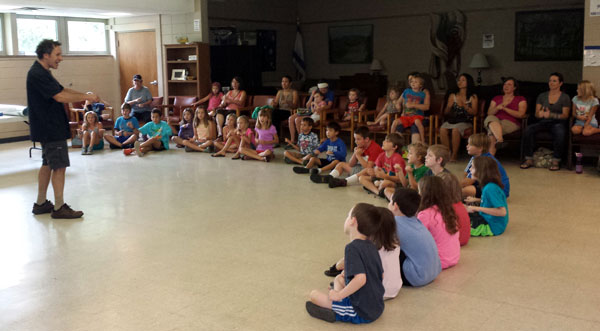 Jay teaching homeschooling families in Kansas City, summer of 2016
Jay Sand of the award-winning All Around This World global music and cultures program for little kids and their grown-ups
is now 
available for bookings
, large and small, and is eager to sing multicultural, multilingual songs with people, large and small,
nationwide
.
Jay can bring energizing, participatory, international music to your family, community or or homeschooling group through participatory educational shows that any child (or grown-up) can instantly enjoy. As heard on Kids Corner, the Hilltown Family Variety Show and Imagination Parade, beloved by all (or at least these people), Jay is a performer and educator who has traveled the world with his guitar, using music to introduce kids the world by teaching thousands of multicultural music classes, family-friendly concerts a substantial variety of multi-generational cultural workshops.

Jay will happily tailor his homeschool music class or group parent/child class to meet your needs, but you can start by asking about any of these very special programs:
Jay will join you, your friends and all your young children in your living room, community center, school or homeschool classroom for a one-of-a-kind participatory music class. Sing, dance and move around the room as you and your children meet the world through music. We can travel musically to any or all continents. Do you want to meet a particular part of the world?  "The music and movement of South Asia?" "The many rhythms of Africa?" or should we focus on one country, culture or experience — "Learn to Dance the Ethiopian Eskista." "How (and why) to dance a Maori Haka." "Let's have a Son Jorocho Fandango…!" Talk with Jay about your interests, ideas and needs. We can go ANYWHERE. Check out All Around This World's musical regions and ask Jay to focus on your favorite. (each class is approximately 40 minutes, up to 15 families per class, classroom space permitting.)
Go BIG with an entertaining and ingeniously educational concert event — so much fun your kids won't even know they're learning! Jay and your kids will sing together, dance together and explore the world together in any concert venue, from the most intimate living room to the largest concert hall.
During a typical concert Jay will perform songs from several continents that have lyrics in nearly a dozen languages.
Do you want to meet a particular part of the world?
Check out All Around This World's musical regions
and ask Jay to focus on your favorite.
(each concert averages 40 minutes, great for infants-in-arms to 9 year-olds.)
Questions? Contact Jay.